Supporting Local Restaurants

Enjoy a Favorite or Try a New Restaurant, On Us!
All month, Ide Honda including a $50 Gift Card with the purchase or lease of a vehicle. We are so fortunate to have so many amazing, locally owned & operated, restaurants here in Rochester. With everything they've endured the past year, we thought this would be a great way to support them. Not only do you get an easy car buying experience and a great deal, but you also get to enjoy a great meal from a locally owned restaurant!
The Local Picks
The Waffle Factory (Webster)
Located on North Avenue in Webster, The Waffle Factory is known for their handcrafted Belgium waffles and moon cakes. The Waffle Factory opened its doors in 2016 by Rochester Native and great grandson of Belgium and Holland immigrants, Nick Musson. They also offer Fresh OJ, Ice Cream and Whipped Iced Coffees called Frothy's. Nick is creating a cozy space for outdoor seating this summer. We have included a video review below. You have to check it out!
---
Barry's Old School Irish (Webster)
Located on West Main Street in Webster, you'll find a little piece of Ireland at Barry's Irish Pub. Owners Jessica and Danny Barry were inspired to open the pub during their honeymoon, by the quaint countryside pubs deep in the hills of Ireland. This pub is a great backdrop for gatherings, music and authentic Irish Fare! If you want great service, bar selection, food and Ireland pub atmosphere, you got it with Barry's. Recently named by the Irish Post one of the Top 20 Best Irish Pubs in The United States! Highly recommend: the Irish Cheeseburger.
---
Maria's Mexican (Webster)
It's located in Old Church Mall in Webster. Owner and Head Chef is Gloria Duarte. Offering take out Wednesdays & Thursdays and offering Dine In on Friday & Saturdays. Make a reservation to have authentic, made from scratch (everyday), Mexican Cuisine, at Maria's Mexican Restaurant. The Decor is welcoming and festive. The customer service is first class. Make a reservation or order online today. Highly recommend: The Mexican Flag
---
Bernard's Grove (Greece)
From the minute you walk in, you are treated like you are part of the family, with warm hospitality and with kindness. Shannon, Thomas and their daughter Shana own and operate Bernard's Grove since 1995. The atmosphere is homey and comfortable. Delicious American standard fair overlooking a picturesque location nestled near Long Pond on Lake Ontario. This is defiantly a great find! Make a reservation and sit back and enjoy! Highly recommended: Oysters
---
The Cottage Hotel of Mendon (Mendon)
Owned & operated by the Stott Family, this historic cottage was once a stage coach stop around the year 1822. And you bet there are ghost! They use locally grown and sourced ingredients and craft beverage-makers from all over Western NY. Serving cottage fare and locally made spirits from 11:30 – 10pm! You can also order online!
---
Finger Lakes Goods (Geneva)
Technically not a restaurant, but we were so impressed that we had to add it. It's a General Store filled with Finger Lakes made goods. Everything is Locally hand crafted! Say hi to Jim or Kellie when you check them out!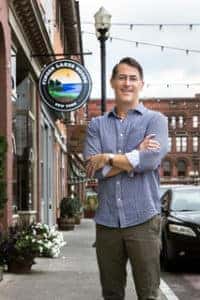 ---
La Bella Mangia (Fairport Village)
Michelle Liberti knows good Italian food. Located in the Fairport Village La Bella Mangia is for catering a wide variety of Italian food for any occasion. They are known for their Friday Fish Fry's but make sure you call early to order, as they sell out fast! Also they offer 10% off for Seniors with an online coupon. Highly recommend: Chicken Parm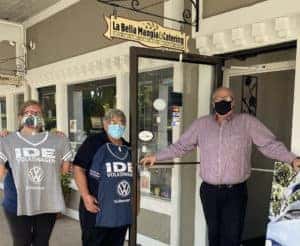 Photo: Jolene Femiano, Michelle Liberti (owner of La Bella Mangia), and Joe Preteroti (Ide VW Sales Manager.) Joe gives this restaurant a 5 star rating.
---
McArdle's (Fairport)
You feel like home when you are at McArdle's. It has amazing interior woodwork with high-backed wood booths. For food, you can find something for everyone, all made from the freshest all-natural ingredients. Come join the Albert Family and bring your puppy and enjoy your meal with a craft beer on the outdoor patio! Highly recommend: Fish Fry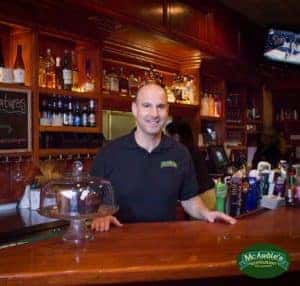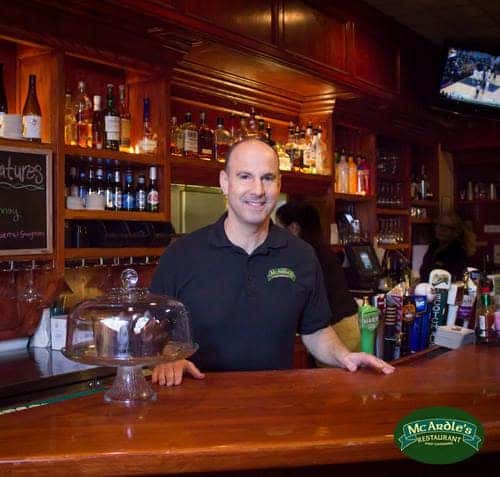 Photo: John Albert(owner of McArdle's)
---
Highland Diner (Rochester)
Rochester Landmark Society's list of architectural gems. Located on Clinton Ave this restaurant emphasizing freshness, the menu features homemade mashed potatoes, hamburgers, soups, salads, sandwiches, wraps and a truly delicious apple pie. Classic Rochester staple. They are open for Dine In and Take out! Please make a trip and see our friends at Highland Diner. You have to have the apple pie.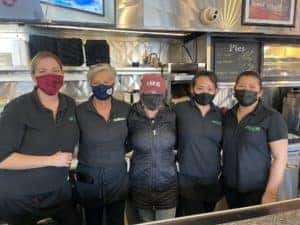 Photo: Highland Diner Morning Crew with Rhonda Morelli (Ide Dealerships Marketing Director)
---
TP's (Penfield)
TP's is an authentic Irish Pub. Proprietor, Phillip Fiorella, is carrying on the traditions set by his Uncle Timothy Patrick, by only using the best ingredients, to keep their award winning recipes at outstanding quality. Phillip is a customer of Ide Honda and Rich Ide's Menu favorite is the Himself's Hot Roast Beef. Sandwich.
---
Calabresella's (Park Ave)
Owned by two generations since 1975. This Italian NY style Deli has a few locations in the Rochester Area (Buffalo Road, Fairport, on Park.) Park is owned by Will (in the photo.) They are on grubhub.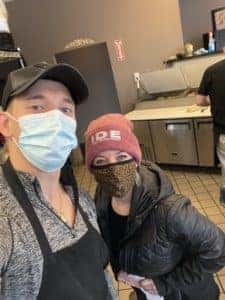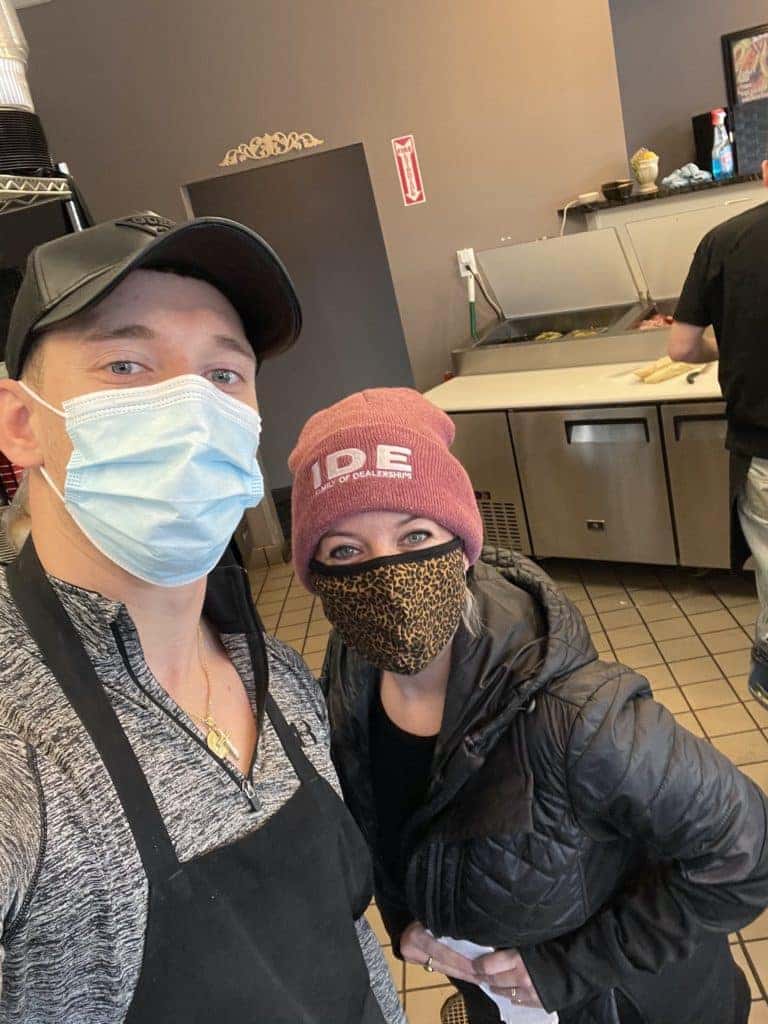 Photo: Will (Owner of the Park Ave Calabresella's) with Rhonda Morelli (Ide Dealerships Marketing Director.)
---
Swan Market (Rochester)
Early Octoberfest! Real Authentic German Deli & Catering! Barry and Liz bought Swan Market over 20 years ago. Today they share it with their kids! When you walk into Swan Market you'll immediately know it's an old world Deli! Ide and Swan met doing Oktoberfest in Fairport and Irondequoit. They impressed us so much that we would love to give them a shout out! They offer Online Ordering from GrubHub and Uber Eats! Prost!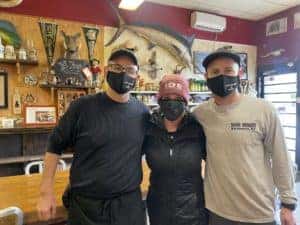 Photo: Barry Fischer (owner of Swan Market), Rhonda Morelli (Ide Dealerships Marketing Director), Eric Fischer
---
Peppapot (Rochester)
Enjoy authentic Jamaican meals. Located a block away from the Eastman Theatre. Owner Marlene Henry started out on Gregory Street in the South Wedge and moved to 522 E. Main Street in 2018. They have a passion for food and an obsession for detail. Highly Recommended: The Beef Patty and Pepper Steak with Rice & Beans.
---
Noble Shepherd
Noble Shepherd Craft Brewery is owned and operated by husband and wife; Tony and Jessica Moringello of Macedon, New York. Noble Shepherd is located right outside of Bloomfield in Bristol, NY. It's a great destination brewery. Noble Shepherd is run by Tony who serves at the head brew master and manager of the tasting room. The tasting room is also run by a handful of local people who love our beer and make everyone feel welcome. The business would not be possible without all the help they have received from their local family and friends.
If you have local business you would like to include please contact us.
---